Student Life
Life At ACity
The Student and Community Affairs Department is concerned with the Total Student Experience outside of the lecture halls. The Department organizes programs and presents opportunities geared towards nurturing personal growth and the fulfillment of student ambitions.
We provide learning opportunities and coaching sessions beyond the space of the lecture halls, by empowering students to develop personally and socially in a nurturing environment, learning from diverse cultures and developing friendships that will last a lifetime.
There are several activities designed to give you a complete student experience here at ACity. We ensure that ACity becomes your home away from home.
Last off, we promote educational and leadership experiences that prepare students to serve their communities, through our community engagement activities.
The ACity Student Commitment
The values and ethos of Academic City University College reflect the principles of Excellence, Innovation, Integrity, Leadership and Responsibility.
As students of this noble institution, it is incumbent on you all to collectively and individually put these values into practice throughout your stay on campus.
Commitment To Academic Excellence
Commitment To Respect And Peace
Commitment To Protecting Properties
Commitment To The Environment And Sustainability
Commitment To Health And Safety
Commitment To Ethical Decisions
Clubs at ACity
The office of the Student and Community affairs is responsible for the development and implementation of co-curricular activities that will complement students and enhance the overall educational experience of students.
This office coordinates, advises, provides financial and administrative assistance to student groups, clubs and organizations and the student governing body at ACity.
We recognize the leadership potential in every one of our students and strive to give them tools to succeed by guiding them through the formation and management of these clubs on campus.
These clubs exist to support and enrich the academic experience for our students, by creating an environment that supports learning outcomes outside of the lecture halls.
Various clubs at ACity are:
Debate Club
Rotaract Club
Writing Club
STEMEP Club
Robotics Club
Programming Club
Happiness Club
Campus Fellowship
Dance Club
Business Club
ACity Music
Arts & Media Club
OTAKU
Academic City Student Council (ACSC)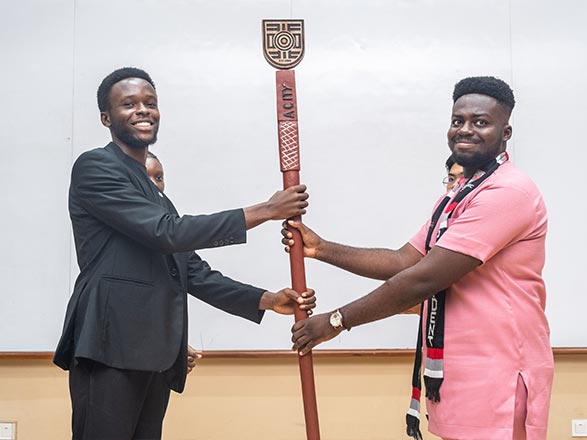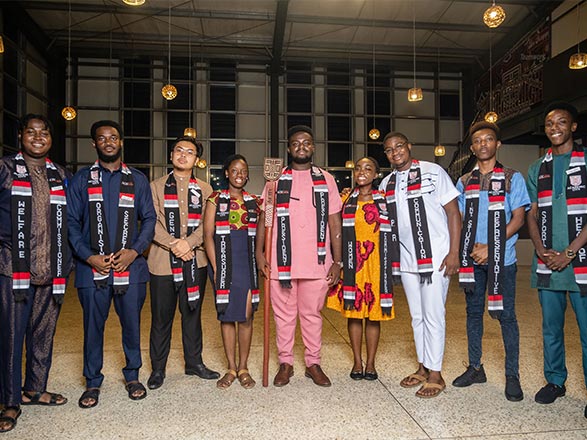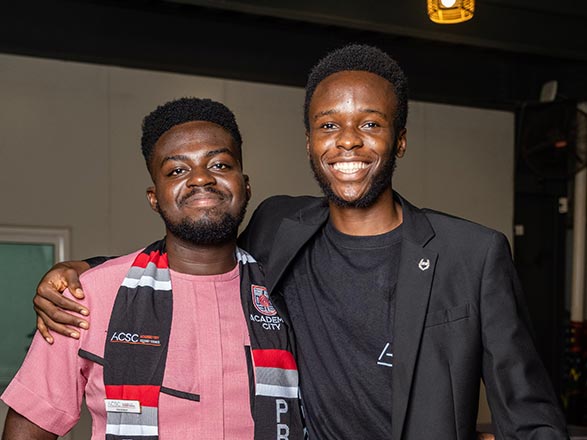 The Academic City Students Council is the students governing body and a Cabinet of the highest student leadership here on campus. These students' positions encourage students to put into action newly developed skills that will impact the entire students' community and prepare them for future leadership roles.
Civic Engagement
The effect of student growth can only be felt by the contribution that they make to society. Learning to take responsibility for the transformation of the community is a mark of students transitioning into adulthood.
In Academic City, students are encouraged to offer services to the community beyond their own circumstances. Working on civic engagement projects allows for guided independence, safe risk-taking, and guidance for reflection, assessment, correction, and sustained engagement.
Civic engagement projects open students to how project cycles work in the real world to solve social challenges. Working on small-scale civic engagement activities allows students to be involved in all the various stages of projects: from concept stage to planning, implementation, and through to completion and assessment. The hope is that students will be able to work on civic engagement projects that complement their majors and collaborate with course mates to achieve tangible and impactful results.
The other key feature of civic engagement is that it allows students to integrate with communities and situations in an intentional, participatory manner, and to develop a sense of empathy.

Sports & Recreation
We value innovation, student development, collaboration, diversity and inclusion, health and wellness at Academic City to maintain a balanced and healthy lifestyle. With significantly diverse recreational activities, there is always something for everyone to choose from. Our indoor games consist of board games like chess, ludo, checkers, card games, pool, darts, table tennis, and table-top football.

For electronic sports gamers, there is also a plethora of options on gaming consoles to savor, like FIFA, Mortal Kombat, and Call of Duty. These indoor games give students the opportunity to reduce stress from coursework, socialize with friends, enhance creative thinking, and, ultimately, resume rigorous classes with more momentum and productivity.

Additionally, outdoor games in ACity can be extremely competitive. Our active basketball, football, and volleyball teams create a portal for students to demonstrate their athleticism and team spirit. Not forgetting our workout (group exercise) which include yoga and basic aerobics. Our sports activities provide recreational activities focused on creating excitement, fun and socialization which promotes a holistic healthy lifestyle that impacts student engagement and retention.
Hostel & Canteen
Our on-campus housing promotes a safe, secure and healthy living environment. We believe there is no better way to fully embrace your college years than spending them as an ACity on-campus resident. Living on campus forms part of the ACity holistic students' experience, creating pathways for intellectual, creative and cultural enrichment.
Being an ACity campus resident, student residents are committed to participating in a positive community; a community characterized by security, opportunities, and respect.
Our hostel provides a serene atmosphere that is immaculate, well-furnished and aesthetically designed with separate blocks for males and females; constructed with a purpose to provide a conducive environment for learning. The hostel is under the surveillance of CCTV cameras 24/7 which ensures a safe environment for all.
Academic City is committed to providing an accessible, exquisite and healthy dining experience. As part of this mission, we strive to meet the dietary needs of both students and staff on campus. Providing you with healthy options is something our dining team proudly does every day.
Overseen by the Office of Student & Community Affairs, our meal plan enables students to enroll in a semester-long program that caters to all their meals on both weekdays and weekends. Once enrolled, students can order meals and pay for additional snacks seamlessly with a tap of their student ID cards.
Health & Wellness
The Health Center staff at Academic City provides basic primary care to all students. The nursing team is available during working hours for health counseling, evaluation, and treatment of common medical concerns. For medical care beyond the scope of practice of the Student Health Center, students are referred to a nearby private clinic in emergency cases and a mix of private and public facilities for standard referrals. Our health center offers professional and confidential health care in a safe and welcoming environment for full-time students.
Hours of Operation: 8 am to 6 pm - Mondays to Fridays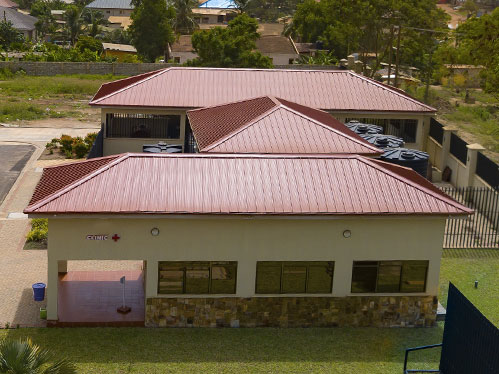 Internships & Co-Ops
Our dedicated Career Services office focuses on the personal and professional development of our students in preparation for a local or global career-path. As they progress through Academic City, our students are actively introduced to internship opportunities and job-shadowing options where possible. This acts as a precursor to post-graduation employment or graduate school.
Student Affairs Team
Picture a campus in which hard questions are asked, opinions are probed in a productive manner, and teachable moments are constant, as young people are encouraged to sharpen their minds and adapt themselves for the upcoming world. Our student affairs team bring their collective expertise to craft a happy and purposeful student journey at ACity.