ACity Academics
About ACity Library
There are many good reasons why a tertiary institution should maintain a state-of-the-art library. Academic City's Library is the institution's principal learning resource center with a rich environment.
Predominantly digitized, our library has subscriptions from several electronic information resources, including the Consortium of Academic and Research Libraries (CARLIGH) and the Africa Intellectual Database for Development & Excellence (AIDDE) all of which give access to e-textbooks, e-journals and e-magazines.
The library's collections also include a variety of textbooks, magazines, newspapers, research publications, DVDs, CDs, periodicals and journals. The Academic City library is not restricted to the library's building but also spreads out into faculty and administrative offices, lecture halls, and even outdoor meeting places.
The electronic library is accompanied by a physical collection that currently has over 6,000 books focused on Engineering, Business, Information Technology and Communication Arts; including titles related to Language and Literature, Law, Medicine, Philosophy, History and Political Science.
Message from the Librarian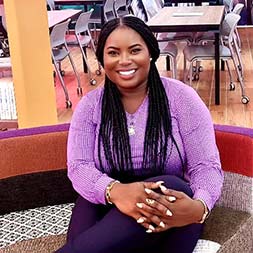 On behalf of Academic City's Library, I warmly welcome all lecturers, students, staff, and visitors to its threshold. The Library's congenial environment and collaborative services from its staff will ensure the provision of support and assistance required by users to enhance their academic, professional and personal goals.
We aim to acquire, preserve and disseminate quality and timely information to our faculty and students for their learning and research purposes. The ACITY library provides a suitable atmosphere needed to share and apply knowledge to support the curriculum. My expectation is for faculty members and students to have access to our rich collection, space and service. Please make the most of all we have to offer and let us know what your experiences are.
I, therefore, invite you to explore our sites on www.acity.edu.gh or www.acity.edu.gh/library to familiarize yourselves with our services and resources to help with your learning, research and teaching activities.
Library Team